Gated Content vs Non Gated Content
What you'd need to know about the two schools of thought to successfully generate leads
Chances are that as a B2B marketer, you are responsible for generating leads. MQLs are what you aim for.  But wouldn't generating demand be the better metric? They're similar, but they are not the same. Each "School of Thought" has its pros and cons. I like distinguishing them through their basic content marketing distribution strategies: Gated Content vs. Ungated Content. In other words: everything is free – or content after registration only. Which method should you choose? Do you need to make a fundamental decision? Or maybe there's a happy medium?
All good questions to which I have been looking for answers (TL;DR: I have found those).
3 Highlights of this Article:
What is Gated and Ungated Content

Benefits of a Gated Content and Ungated Content Strategies

Balancing Both Approaches Between Measurability & Effectiveness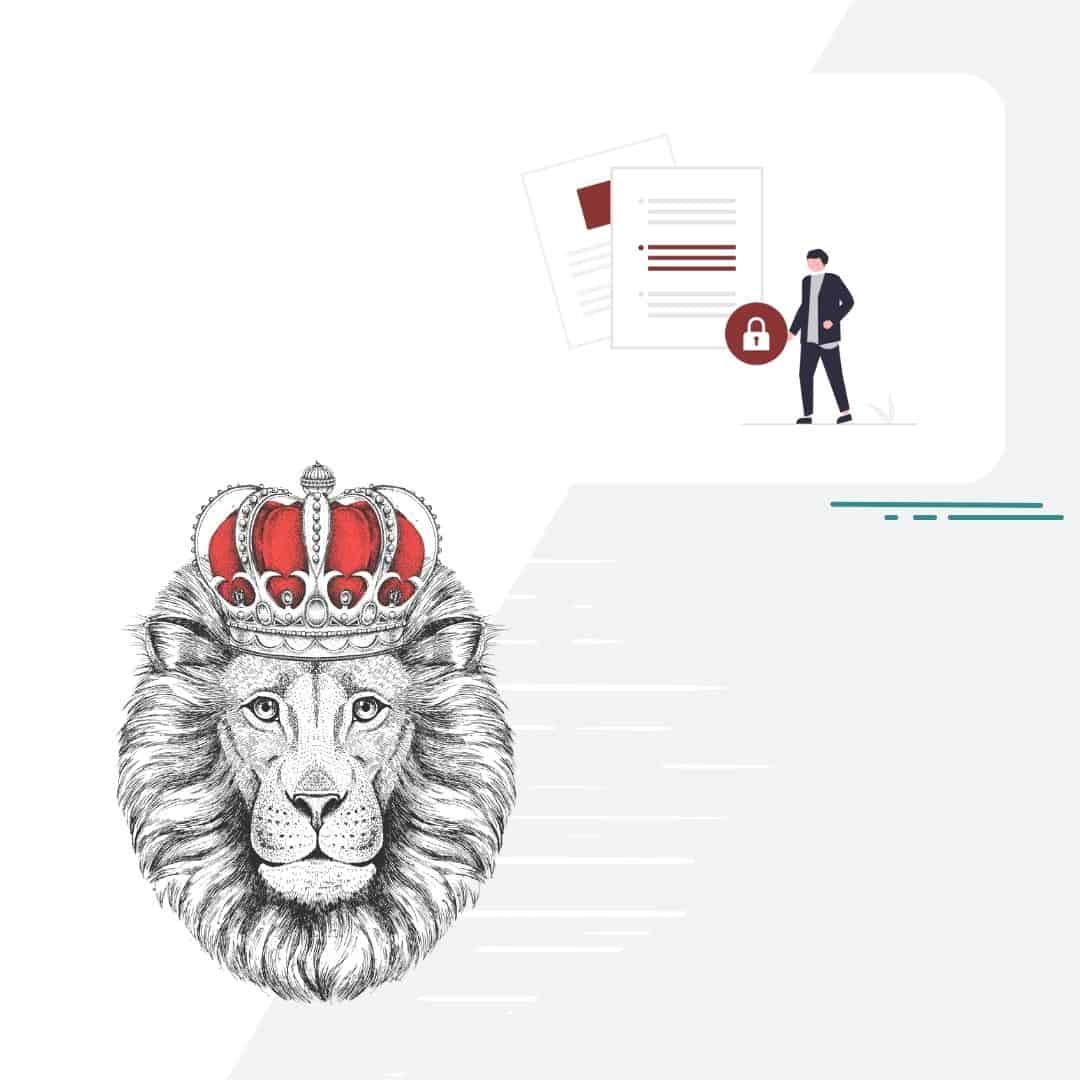 Want to learn B2B Marketing?
What is Gated Content and Ungated Content?
Before we start the discussion, I'd like to clarify the two terms:
Gated content refers to content locked "behind a paywall" or barrier, i.e., it can only be accessed if personal information, such as one's e-mail address, is given beforehand. White papers, e-books, webinars, and online courses are prominent representatives of this strategy.
Ungated content, on the other hand, is freely accessible and can be consumed without any registration. Blog articles & infographics, but also videos, are typically distributed "unrestricted."
Now let's look at the respective advantages and disadvantages of these two B2B content marketing approaches.
What Are the Benefits of a Gated Content Strategy?
Qualified leads: Especially in inbound B2B Marketing, gated content is used to generate qualified leads. This allows you to collect a lot of valuable contact information, which allows you to understand the target group even better and address them in a targeted manner.
Better tracking: If users must identify themselves at the various touchpoints, it's also easier to track their interactions and the success of the shared content. If you need to deliver a certain number of MQLs (Marketing Qualified Leads) per month, there's no possibility of not identifying your users.
Targeted follow-up activities: Anyone who has collected a lot of data by gating content can respond more precisely to the (supposed?) needs of the respective target groups and develop tailored marketing campaigns (we like to call this "nurturing") or initiate concrete sales activities.
What Advantages Are Related to Ungated Content?
Higher reach: The fewer access barriers there are, the wider the audience that can be reached. That's what makes viral content distribution possible in the first place.
Positive user experience: Many users find it pleasant when they are given free access to valuable content. There is a high chance that this positive experience will also transfer to the lower levels of the sales funnel and that users will "knock" on the company's door of their own accord when the time is ripe for the purchase decision.
Ranking in search engines: Freely accessible content is also more easily indexed by search engines and can thus improve the organic ranking of the website hosting the content – and thus also generate more traffic.
Conclusion: Where There's Light There's Shadow as Well
It can be seen at first glance: the advantages of one strategy correspond simultaneously to the disadvantages of the other. So, we must clarify which measure is more promising in the respective case.
Demand-Lead-Generation at Canon
At Canon, we have been using a marketing automation solution in the B2B environment for over 5 years now (read more here). The software provider recommends generating as many leads as possible: ideally via gated content – which "in the world of marketing is as good as cold, hard cash".
Obviously, the more data I collect, the more informed the decision I can make based on that information. The following chart shows what information is requested.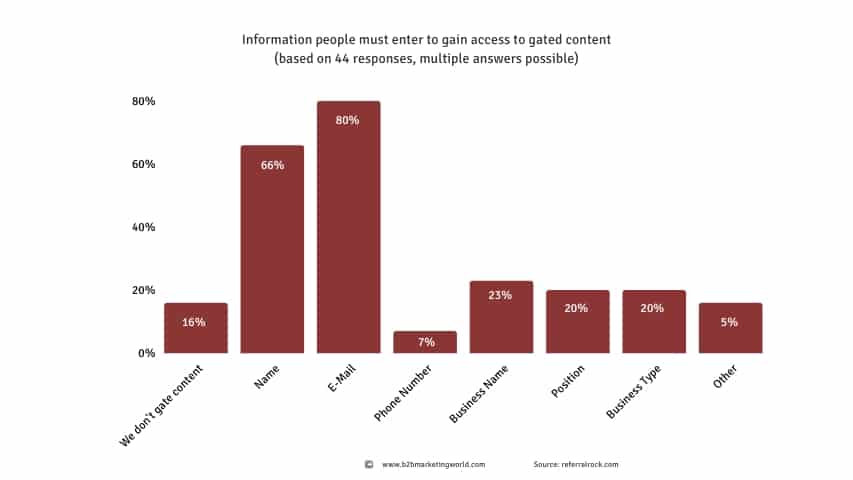 Information people must enter to gain access to gated content © Referralrock
Our central DLG team (Demand-Lead-Generation) therefore explicitly recommends the use of so-called "Progressive Forms", where we learn a bit more about our visitors with each interaction: because already known data fields (like an address) are replaced by others (such as industry, company size, phone number, etc.) with each new.
This way, the forms remain reasonably compact, but you keep learning. And yes, this is also quite practical from the user's perspective.
However, the fundamental dilemma remains:
As a user, would I want to provide data just to download a whitepaper?
As a B2B Marketing decision maker of an international corporation – hence a possibly attractive "target" – it has happened more than often to me that I was contacted almost immediately after such a download to "specify my needs". Heck, I might not have even read the whitepaper yet.
I understand that AQLs (Automation Qualified Leads) should become MQLs (Marketing Qualified Leads) and SALs (Sales Accepted Leads) promptly (find definitions here), but that doesn't mean you have to escalate every e-book download directly to Sales as a "hot lead" right away – most often you're wasting time.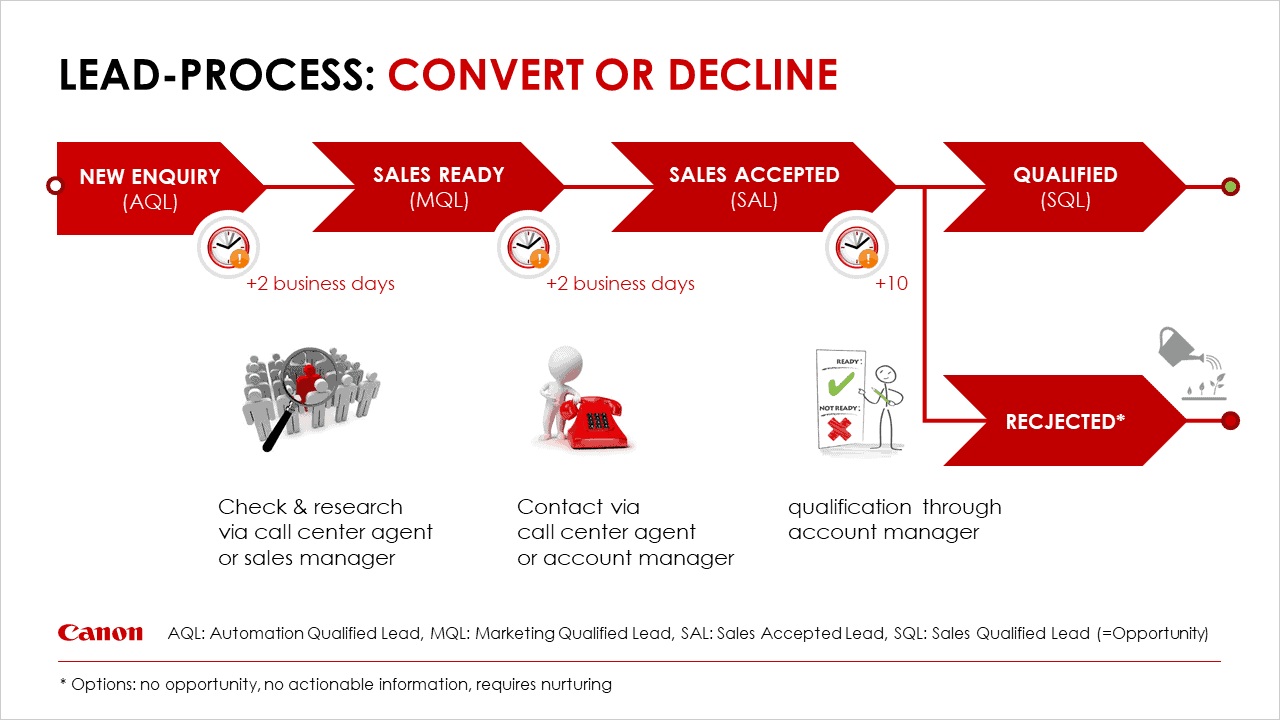 Canon Lead-Process © Canon Austria
Especially if the marketing department is evaluated by the number of MQLs per period, this can quickly become problematic. I've proof from within my organization: such an automatic action won't lead to the desired success but only to frustration on all sides… for marketing, sales, and your customers!
We recognized this very soon and switched to mutual (sales) targets for the marketing department as well:
The Purpose of Marketing is to generate (new) business, not leads.
The "Content Gating Dilemma": Balancing Measurability & Effectiveness
Undeniably, gated content helps generate "qualified" leads by prompting visitors to share their contact information (and sometimes even more).
Of course, it would be good if the content offered is of such high quality that interested parties are willing to pay for it with information such as their e-mail address or job title.
This has worked very well in the past (in 2014, 80% of all content required registration), for example, to build up email lists for newsletters and to initiate targeted follow-up measures. Following the Amazon example: customers who have bought/downloaded this are also often interested in…
How Much "Valuable Content" Is There?
However, we are finding that the more (average) content is available on a topic, and the earlier in the buying cycle, the more difficult it is to get data for it. ChatGPT (1.8 billion hits in April 2023) and the like will cause a veritable content explosion – Gartner expects that by 2025 around 30 percent of marketing messages from large companies will be generated synthetically (last year, it was less than two percent).
We experienced this first-hand: fewer and fewer prospects want to be contacted via outreach strategy! Not at all via phone (the calls-to-meeting ratio is getting worse every quarter), but not via e-mail either. Today, users have become more self-determined; they specify when and how they want to contact a company – and when not. The number of invalid entries in marketing automation systems is a clear indicator.
Undermining Gates…
I'd like to confess: in the past, also I "registered" downloads and the like via fake e-mail addresses like no.spam@mail.pls… they just needed to look like one. That did the job for quite some time – until e-mail validation via double opt-in procedure was introduced.
So, it's no wonder that tools such as "10-Minutes-Mail" popped up like mushrooms. These e-mail services can be used to undermine a double opt-in process because they make it possible to use a temporary disposable address for both: registration and the subsequent confirmation e-mail. Follow-up activities, so-called nurture emails, then literally end up in nirvana. Clever but annoying!
… and Fortifying
To counteract this, some organizations reacted by excluding certain domains often used for private purposes (e.g. @gmx.com). Again, tedious for both parties and expensive for the company if you rely on real-time validation solutions.
Is That Mutual Arms Race Really Necessary?
Wouldn't it be better if users contacted you willingly because they were interested in purchasing? In inbound B2B Marketing, we refer to this as a "hand raiser" – someone who literally "raises their hand" to indicate that they want to contact a salesperson.
So, if Ungated Content is reasonably valuable, wouldn't that be enough to initiate business in the first place?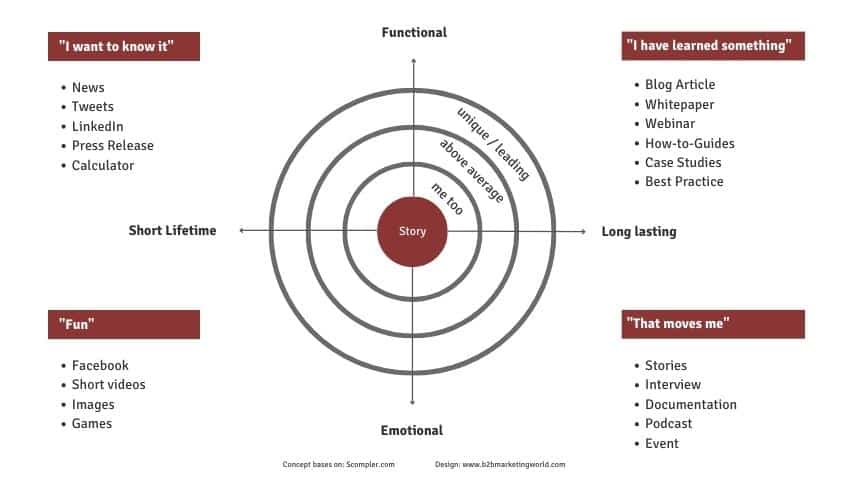 B2B Content Marketing Radar © based on a concept by Scompler
In our CRM, only contact forms trigger an immediate follow-up activity on the sales side. All other digital activities are still recorded, but they don't trigger a lead process.
Ungated Content: The "King in the Ring"?
The quick answer: nope, not entirely!
Yes, ungated content has its advantages: especially in terms of reaching a wider audience and improving brand awareness at the top of the funnel.
But that's not always enough to initiate (new) business.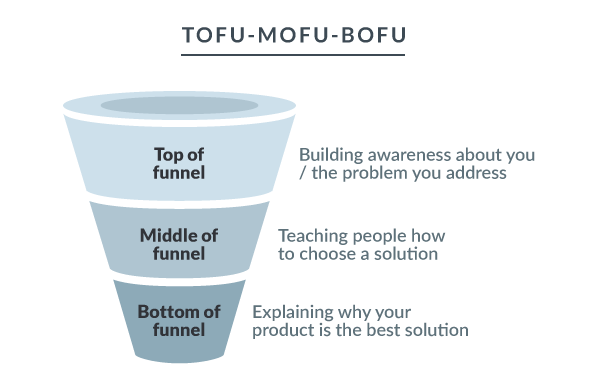 This could cause many potential leads to be missed. Especially those where the "pain" was not yet great enough. Missed opportunity, anyone?
If I don't possess any contact data at all, I'm having a hard time
to take the first step myself.
The decision on which assets should be gated and which ones ungated depends on your marketing objectives, the type of content, and your target audience.
When to Gate Content and when to Ungate
Ungated Content Excels, When…
When it comes to reach & engagement, you're often better off with freely available content. This includes:
Blogposts, Articles & FAQs
Infographics
Videos & Podcasts
Social media postings
Product or service demos
They are also ideally suited for the upper funnel area, i.e. the early stages of the buying cycle. In this context, we're talking about "demand generation".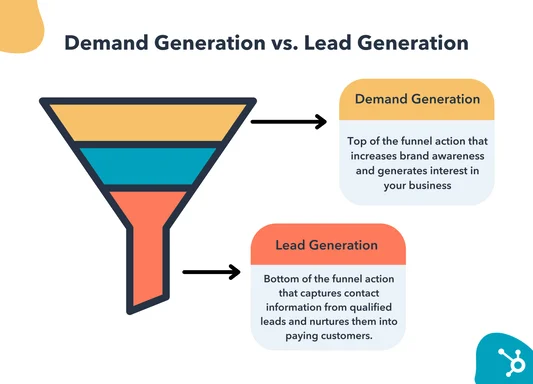 Demand Generation vs Lead Generation © Hubspot
Gate Content With Care
Conversely, there are arguments for putting extensive, well-researched, high-quality content (note: I've mentioned 3 different quality criteria here :-) behind a registration barrier – because it is ideally suited for collecting initial contact information from potential prospects (i.e. lead generation).
The data collection frenzy for whitepapers and e-books should definitely be kept in check. In my opinion, you should not ask for much more than a (hopefully business) e-mail address during the initial contact.
Yes, it's stupid because with only that, you can't even put a "proper" salutation into the e-mail, but you have to build up trust first.
Depending on how far I've progressed in my customer journey, or how well I've been provided with information so far, my willingness as a user to give away more of myself also increases.
Other gated content classics include:
Webinars & online courses (or their recording)
Industry reports & study results
Checklists & Templates
Exclusive events or access to closed communities.
New Gates Ahead?
Individual web platforms, such as the Smart Links of LinkedIn's Sales Navigator, are on the rise. They'd be tracking who has viewed or downloaded which asset – and for how long.
Great for finding the perfect spot to follow up after a customer demo or a proposal has been sent – but exhausting when I just want to look around or get my bearings.
Hence, for early buying stages another No-Go.
Personally, I'd rather watch an unlisted YouTube video than access a Vidyard video message via a tracking link. I'm also a bit skeptical when clicking bit.ly URLs. You guys are too, right?
Unless you're operating on a global scale (and hence have an almost unlimited market opportunity, don't go for gating: Show appreciation! Make it clear that you take data protection very seriously and only send relevant or valuable information.
When in Doubt: Don't Ask for Data!
Now that we know all the pros and cons of each content strategy, I want to state explicitly that gated content should remain a valuable tool in any marketing toolbox – but only when it's really appropriate.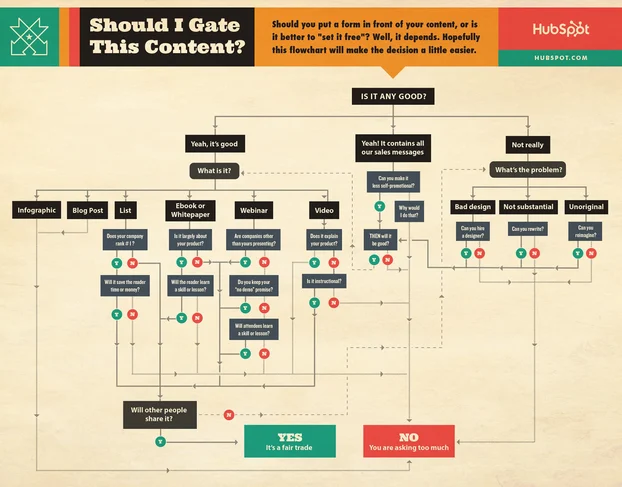 With the right tools and processes, ungated content can help raise brand awareness and drive user engagement, while gated content helps identify and better qualify leads as just that.
Ultimately, the choice between gated and ungated content depends on the specific goals and needs of one's own company. At the moment, the sensible combination of both is, therefore, the best solution for us.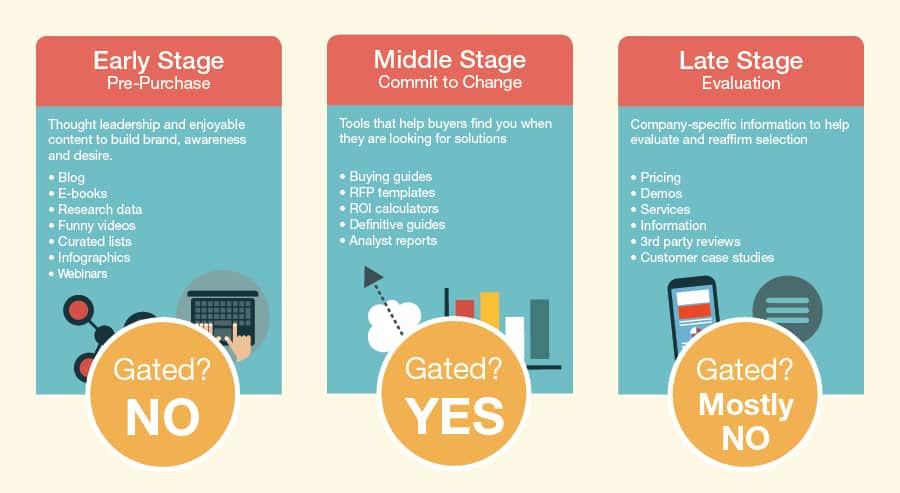 How about you: Where are your white papers stored? Are you #TeamGated or #TeamUngated?
Let me know in the comments or come by sometime and we'll discuss further over coffee…
You may also like the following articles
Copywriting: Level up your SEO and Content Marketing

What exactly is SEO copywriting and what does it do for my content marketing strategy? Copywriting skills ensure that you find the right words so people respond to your message. It ensures not only that you are understood, but more importantly that your readers feel understood.