Demand Generation Marketing
Definition, Benefits and 6 Strategies
As a marketer, you may have tried countless marketing strategies to generate more leads for your business. And if you did, you've probably noticed that attracting high-quality leads is a constant struggle if there's hardly any demand for your products or services.
All marketers are familiar with lead generation marketing. And yet, not many realize that their primary focus before jumping into lead-generating techniques should be creating demand for their products or services.
That's where demand generation marketing comes in. The truth is that while demand generation marketing is not a well-known term, it has immense potential to deliver continuous growth to companies of all sizes.
So, in this article, we'll cover everything you need to know about demand generation marketing – from its definition and benefits to the top 6 demand generation strategies you can implement to help your business make more sales.
3 Highlights of this Article:
Understand what Demand Generation Marketing is

Learn the Differences between Demand- and Lead Generation

6 Demand Generation Marketing Strategies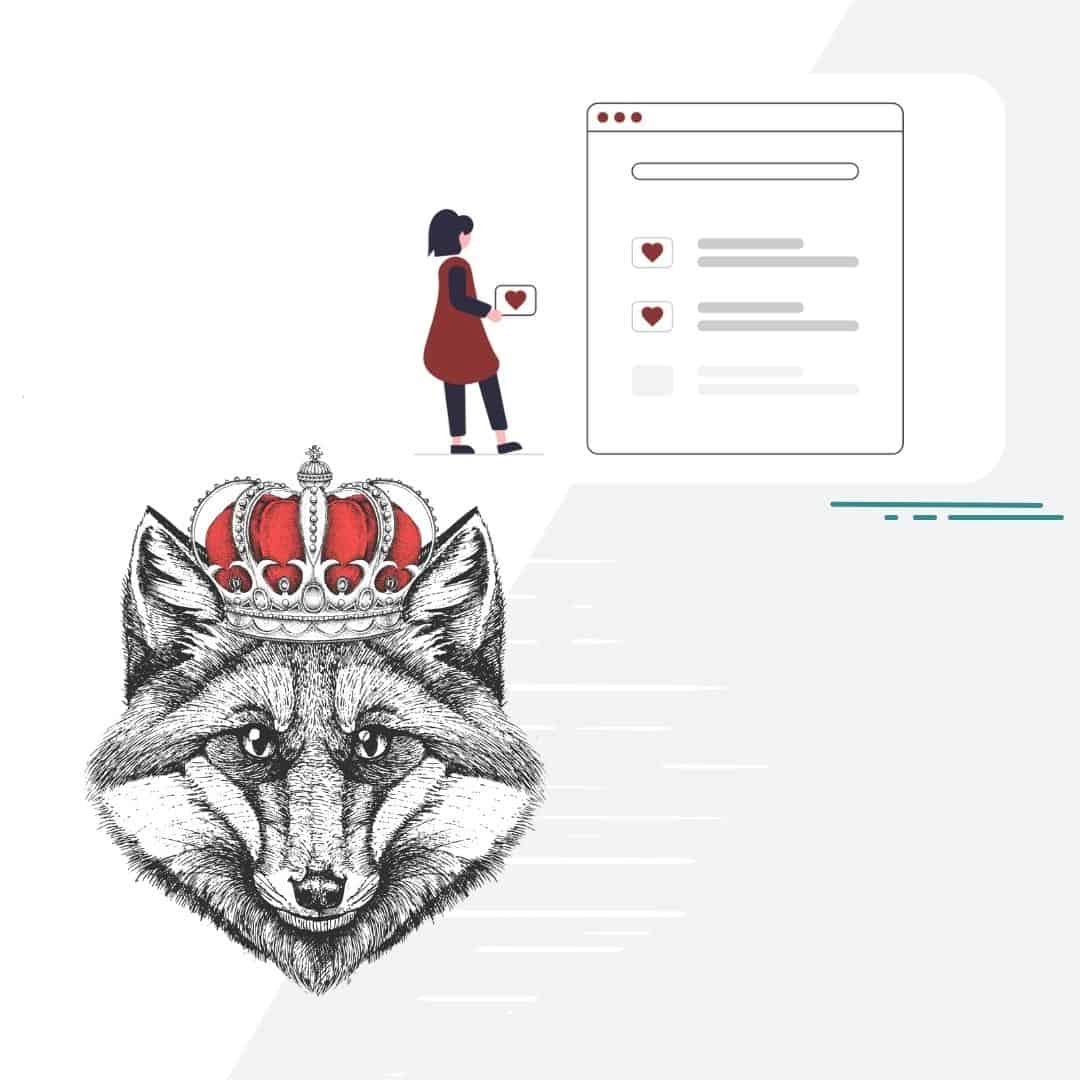 Want to learn B2B Marketing?
What is demand generation marketing?
The definition of demand generation marketing states that it is the process of generating demand and building curiosity in your target audience. It's an important part of the inbound marketing strategy that focuses on expanding brand awareness and creating interest using content and marketing techniques instead of sales and advertising.
Demand generation strategies combine lead nurturing and engagement with automated marketing, for example, via email and social media. The result is a continuous flow of new prospects into your sales funnel, where they can be nurtured and converted into customers over time.
Demand generation vs. lead generation
Many marketers struggle to differentiate between demand generation marketing and lead generation marketing. While these two terms can overlap in many aspects of your marketing strategy, there's a subtle difference between them.
The main difference between a demand generation campaign and a lead generation campaign is that demand generation doesn't rely on direct sales efforts to convert leads into customers, unlike lead generation.
Instead, it focuses on brand awareness and creating enough interest in potential buyers that they're inclined to take the initial action by themselves. This may include completing an online form, signing up for e-mail updates, or downloading a white paper.
On the other hand, lead generation focuses on qualifying those prospects and initiating sales conversations to encourage them to purchase the company's products or services.
Benefits of Demand Generation Marketing
Demand generation marketing is all about driving demand for your products or services. The goal is to create awareness, generate leads, and eventually convert those leads into paying customers. Here are some of the benefits of demand generation marketing.
Increase brand awareness
When you focus on generating demand, you'll be able to reach more people and increase brand awareness. You'll also develop a reputation as an expert in your industry, which will help you attract new customers and retain current ones.
Generate more leads
A solid demand generation campaign can help you get more leads for your business. With more leads in hand, it'll be easier for you to convert them into customers because more people will be interested in buying from you.
What's more, even if some people don't convert immediately after hearing about your products or services, they might still come back later and make a purchase when they're ready.
Increase revenue
Generating demand leads to generating more leads. And once you've generated leads, it's time to convert them into customers. This can be done through email campaigns, well-designed landing pages, and social media ads. The more qualified leads you have, the better your chances of getting more sales from them – which will ultimately lead to increased revenue.
Top 6 Demand Generation Marketing Strategies
Demand generation marketing is an approach that helps your organization generate more leads, convert more visitors into customers, and improve customer retention rates. By using best practices for demand generation, you can streamline the process of attracting and converting prospects into customers.
If you're looking for ways to improve your demand generation efforts, here are the top 7 demand generation strategies to consider: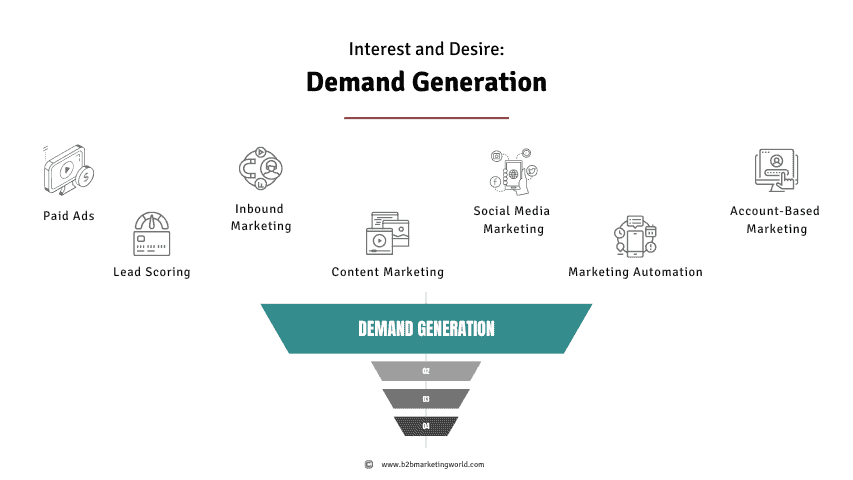 Demand Generation Marketing © B2B Marketing World
Content marketing
As a marketer or business owner, you've undoubtedly heard of content marketing. It is a marketing strategy that uses content in a variety of forms – written or visual –  distributed via channels such as social media, blogs, or YouTube.
The ultimate goal behind content marketing strategies is to generate brand awareness, credibility, and trust by delivering relevant and valuable information to your audience – which, in turn, creates demand for your products and services.
When creating content, think about where your prospects are down the sales funnel. If you're trying to generate demand, you should focus on top-of-the-funnel (TOFU) content, such as blog posts, infographics, and social media posts, that aims to increase brand awareness.
However, when you're focusing on converting your leads into buying customers, your focus should be on middle-of-the-funnel (MOFU) and bottom-of-the-funnel (BOFU) content that aims to help your potential customers make the purchase decision.
Account-based marketing (ABM)
Account-based marketing is a strategy that focuses on targeting specific accounts with the goal of increasing sales and revenue. ABM req
uires marketers to identify which groups of people are most likely to have the greatest impact on the decision-making process within their organization and then develop strategies to target those groups with high-quality sales funnels.
ABM is an effective strategy for demand generation because it's about targeting the right people at the right time to increase sales efficiency and generate more revenue. This approach differs from traditional lead generation techniques that rely on cold calling or emailing thousands of potential leads who may not even be interested in the company's products or services.
Inbound marketing is another popular demand generation strategy that focuses on attracting visitors to your website through content. Inbound marketing includes content in the form of email newsletters, social media content, blog articles, infographics, and more.
Inbound strategies help build awareness about your brand or products without having to spend money on advertising like traditional outbound strategies do and without cold calling or emailing potential prospects. Instead, the idea behind inbound marketing is to generate demand for your products or services with your content so that people come looking for you when they're ready to buy.
Social media marketing
Social media marketing is probably the most popular form of demand generation. By posting content on your social media platforms that's valuable to your audience, you can easily spike their interest in your brand and create demand for your products or services.
In addition, your social media presence is not only a great way to attract new leads but also to connect with them on a more personal level. Social media platforms such as Facebook, Instagram, and LinkedIn allow you to engage with your audience on a deeper level through posts, comments, and direct messages. What's more, the data collected through these platforms can help improve your targeting and messaging efforts.
Paid advertising
Paid advertising is a staple of many demand generation programs, and for a good reason: it can be very effective at generating leads. That's because paid search or social media ads allow you to target specific audiences with relevant messaging and get results quickly. With paid ads, you can also track ROI in real time, making it easier to optimize your campaigns based on performance data.
The best way to use paid advertising to generate demand is to drive traffic to landing pages where users can sign up for free trials or receive a free gift. This will help you create more interest for your products or services without pushing directly for the sale.
Marketing automation
Marketing automation is an essential tool for driving demand generation. It enables you to engage your audience with personalized messages that are delivered at scale, enabling you to achieve greater results faster.
You can use marketing automation to create lead nurturing programs that automate personalized communications with every prospect based on their behavior, past activity, and other factors. These nurturing programs can increase the likelihood of a positive outcome from the initial touch point while reducing costs by focusing only on prospects most likely to close a deal or become active customers.
Summary
Demand Generation Marketing is the process of generating demand and building curiosity in your target audience.
Demand generation is a critical component of an overall marketing strategy. By implementing various techniques in your overall demand generation strategy, you will undoubtedly create more hype about your products and services. Content marketing, social media marketing, or account-based marketing are just some of the ways that businesses use to generate demand for their products or services.
However, no matter which demand generation strategy you opt for, the key to success is to leverage automation while aligning your sales and marketing teams' efforts to create a streamlined process.
You may also like the following articles
B2B Marketing Strategy

Marketing Strategy. Marketing Plan. Marketing Tactic. There are different terms to describe the purpose of your B2B marketing efforts. This article not only defines these phrases but also outlines the correlation between the company vision and aims. Reading this article, you can develop a proper marketing strategy.

Industrial Marketing

Industrial marketing is all actions and processes to market a product or service to another company. In other words, it is marketing directed at other businesses instead of directed at consumers. To fully understand marketing for industrial goods, this article covers a definition, characteristics, strategy and examples of industrial business marketing.

Why you need a B2B Marketing Plan

When running a business, you most likely thought about marketing. And about how marketing can help you to win customers. A marketing strategy and marketing tactics are also necessary for B2B companies. This article will show the fastest way to fail and how to craft a basic B2B marketing plan.

B2B Marketing in a Nutshell

Marketing is essential. But it's hard to create a marketing plan from scratch. This article outlines the very basics to clearly lay out working principles. All marketing efforts can be categorized into three phases. You will read about prospects, leads, and customers and the ingredients of a blueprint B2B Marketing plan.

B2B Marketing for Technology Companies

This article will explore challenges like complex products and the long sales cycle. Further, we outline strategies to overcome the challenge of limited resources and tackle barriers in global markets. Thought leadership, brand marketing, virtual and augmented reality, account-based marketing, and niche marketing are other strategies we discuss.