What is B2B Marketing?
Definition, strategy, and examples of business marketing
So, you are new to B2B marketing? Or perhaps you are a seasoned pro wondering how to take your business-to-business marketing to the next level? Either way, this article has got you covered.
We give an overview of what B2B Marketing is, help to define the key terminology, and include the difference between B2B and B2C marketing. B2B marketing is used by companies to market to other companies to build, maintain, and expand relationships with other businesses.
To help you with your efforts, this article outlines an effective B2B Marketing strategy and showcases different B2B marketing examples.
3 Highlights of this Article:
The Definition of B2B Marketing

How to create a B2B Marketing Strategy

B2B Marketing Examples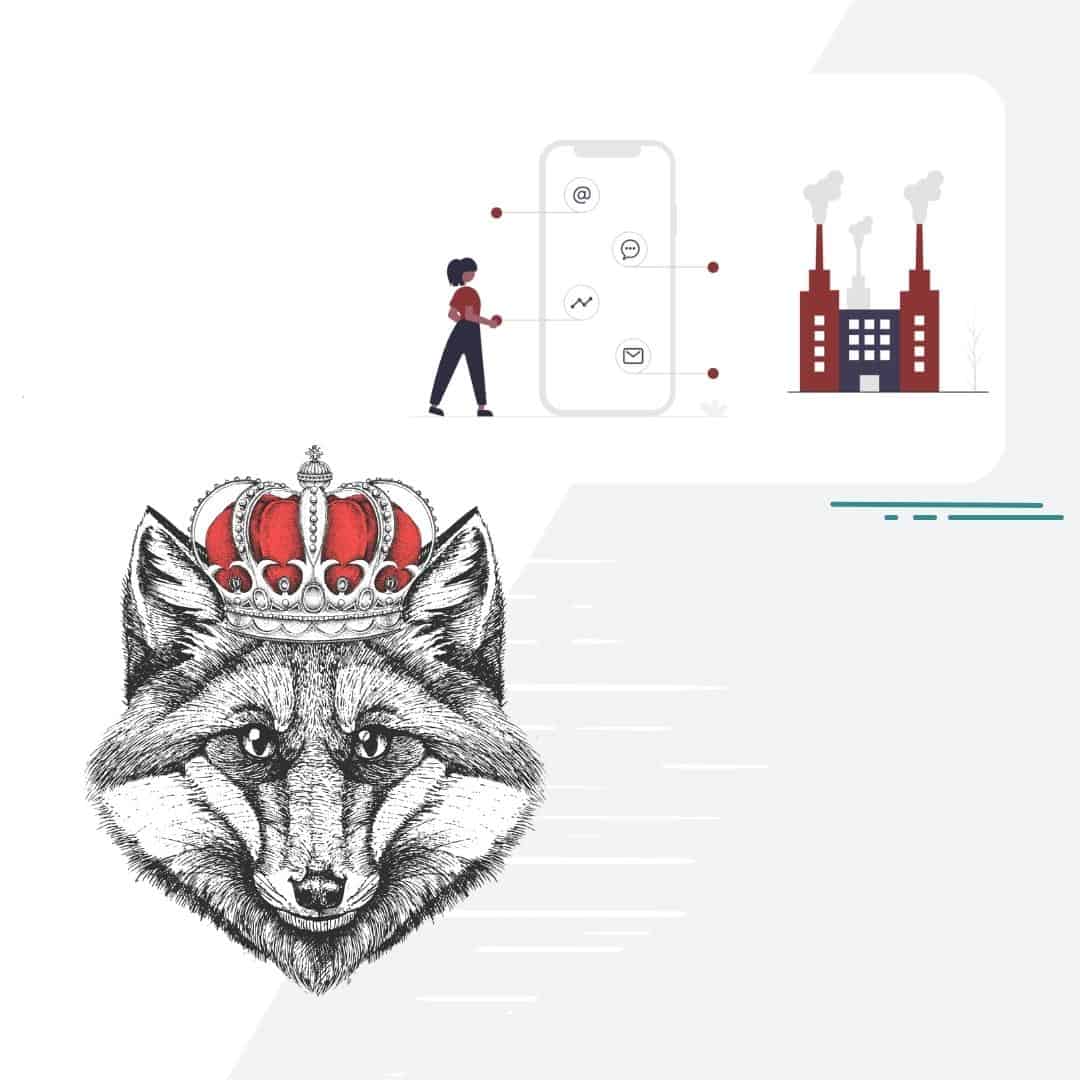 Want to learn B2B Marketing?
What is B2B Marketing?
Business-to-Business marketing includes all actions and processes to market and distribute a product or service to another company. In other words, it is marketing directed at other businesses instead of directed at consumers. Marketing aiming at consumers is therefore called B2C Marketing. There are many differences between B2B and B2C.
As you can see, B2B Marketing is just a part of marketing. The difference to other marketing types is based on the target group. Hence, it makes perfect sense to look at the definition of marketing first. If you cannot wait to see the meaning of marketing, here's the shortcut.
What is Marketing?
Dictonary.com says that Marketing is "the action or business of promoting and selling products or services, including market research and advertising." This is a simple but also relatively shallow definition of this broad topic.
The classic definition by Jerome McCarthy, made in 1960, uses the "4Ps" of the marketing mix as a base definition. Marketing consists of:
Product or Service
Price
Place or Distribution
Promotion or Communication
Another well-known definition is from P. Kotler from 1991:
"Marketing is a social and managerial process by which individuals and groups obtain what they want and need through creating, offering and exchanging products of value with others."
Also, this approach does not cover the essence of what Marketing can do for your company. The definition of Hubspot embraces the strategic importance of marketing:
"Marketing refers to any actions a company takes to attract an audience to the company's product or services through high-quality messaging. Marketing aims to deliver standalone value for prospects and consumers through content, with the long-term goal of demonstrating product value, strengthening brand loyalty, and ultimately increasing sales."
This definition outlines a central topic of marketing: a customer-centric approach. The aim is to please your customer and add value. Reaching your target audience is at the heart of all marketing.
And this very aspect sets the scene for the definition of marketing in the business-to-business environment. B2B relationships are, as the name implies, relationships between two companies. And B2B marketing focuses on establishing, maintaining, and using this relationship.
Let's have a profound look at the term B2B Marketing.
Definition of B2B Marketing
There are various definitions of the term B2B Marketing in marketing literature.
As discussed, the relationship between a company and its target audience influences all marketing activities. Therefore, the type of target audience (business vs. consumer) categorizes marketing. This is the reason why B2B Marketing exists. B2B marketing is a specific discipline defined by the relationship between two companies.
I analyzed over 25 different B2B Marketing definitions (see details at the end of this article).
Including the classic marketing definitions from McCarthy, Kotler, and Hubspot, we can create a framework with the following principles:
Marketing focuses on people
Marketing is a process
Marketing has a social aspect and is practiced by individuals or groups
Marketing is about creating and offering value
Marketing is about the product or service
Marketing covers the distribution and price of this product or service
B2B Marketing aims to create added value for people and the business or organization that implements it. B2B Marketing seeks to convert this added value into leads, sales opportunities, and turnover for profit-focused companies.
This concise definition includes all of these aspects:
B2B Marketing Definition
"B2B Marketing or Business-to-Business Marketing are the strategies and processes involved in marketing and distributing a product or service to another company or organization, happening in a B2B market."
But is this a new concept? Not really. B2B Marketing has been around for quite some time. Added value for your customer is what marketing is in its essence. And this concept is not new.
Before going into more details on B2B Marketing, let us look at this  4min video on B2B Marketing in a nutshell.
The Evolution of B2B Marketing
B2B Marketing is a modern term. It is a development from Industrial Marketing. Marketing of industrialized companies. As the name implies, marketing between companies started during the industrial revolution in the 18th century. The oldest content marketing example is from 1985. John Deere, the American manufacturing company, published "The Furrow," a customer magazine. Sounds interesting? Here's the rest of the story.
Nowadays, the industrial revolution is labeled industry 1.0, and we are living in the age of industry 4.0 or even 5.0. This image shows this development.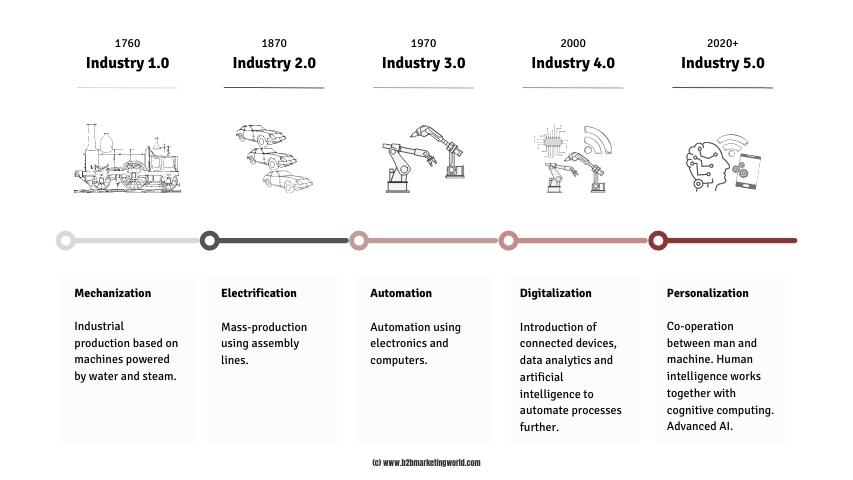 Industrial Evolution and b2B Marketing © B2B Marketing World
Like the industrial market has developed, B2B Marketing subsequently developed too. Today's modern Business Marketing is more automated and yet personalized than ever. MarTech (Marketing + Tech) tools experience exponential growth. And B2B Marketers become the lifeline of your company.
Marketing is a strategic topic. Therefore, it is crucial to understand business markets to ensure the success of an organization's products and services.
Meaning of B2B and Business Markets
We have already discussed at length the distinct factor of B2B Marketing. It is happening in a business market between two companies. But why is this important? How does a B2B market influence marketing and communication?
Let's find out.
B2B
B2B stands for Business to Business and defines the seller and the purchaser of a product or service. Business to business transactions usually involves a manufacturer and wholesaler or a wholesaler and retailer. Companies that sell directly to enterprises are therefore called B-to-B companies. An example of a B2B company is a manufacturer that sells goods to automobile manufacturers.
B2B transactions often occur along the supply chain, in which one business buys raw materials from another company to be used in manufacturing a product. Finished products are then sold to individuals via business-to-consumer transactions. The following illustration shows how Business-to-business stands in contrast to business-to-consumer (B2C) transactions.
The logic derivation is that relationships, competitions, and transactions between two companies happen on a B2B market. They are also referred to as business markets or industrial markets.
B2B Products and B2B Services
The second important topic is products and services exchanged on a B2B market. Hence, they are an essential element of B2B Marketing.
There are three types of goods:
Material goods: can be seen and touched, such as shoes, clothes, cars, machines
Non-material goods or digital goods: have no physical form and are only available in digital format. Such as software, streaming videos, NFTs
Services: are activities provided by another human. Such as consulting servicing machines.
In most cases, B2B goods combine at least two of these three types.
For example, your company sells machinery for the paper industry. The purchase order will likely include the machine setup at the customer's production site. It may also have some hours of training employees on working with it. Further, the package consists of software to operate the machine remotely.
B2B marketers need to market each good differently. The machine itself can be shown in a video and defined by certain specifications. However, the installment service cannot be seen or touched in advance. Social proof of its advantage is one option on how to market it. The software part is similar. While you cannot demonstrate the big machine easily, the software demo is just a click away.
This aspect, however, is not exclusive to B2B markets. So-called product bundles are a common thing in B2C markets too. Still, it is a vital aspect to consider in your marketing strategy.
B2B vs B2C
Many marketers claim there is no difference between B2B and B2C marketing. This article already shows how different a B2B market is from consumer markets. Although many marketing practices are found in both market types, they are adapted to the individual requirements.
Let us look at how B2B differs from B2C marketing.
For a first overview, we compare some typical, market-defining criteria: target group, number of people involved, and the 4Ps of marketing. There is also a detailed comparison of B2B vs. B2C available.
B2B Marketing

B2C Marketing

Target Group

Group of people working for businesses or organizations.
Buying Center

Number of people involved

More than one person makes the purchasing decision.
Typically, the buying decision is approved by a buying center.

One person makes the decision, often consulting friends or family to:

discuss the intended purchase or
to justify a decision they have already made.

Product / Service

Complex products or services requiring detailed explanation.
Often long-term investments.

Less complex products or services.
Often consumer goods for daily usage.

Price

High volume investment goods.
Often defined by budget limits.

Lower absolute prices.
Compared to income, B2C prices can be high too.

Place / Distribution

Complex distribution process.
Often international or global.

Fast delivery, often 24/7
Typically available everywhere.

Promotion / Communication

Usually fact-based, with less emotional selling.
Multi-channel communication is not yet widely used.
How much impact these differences have, depends on the type of business. A fair argument is that both disciplines are closer than ever. While this might be true, B2B and B2C marketing are still very different in real life.
A final comment on the subject of "Human to Human" marketing. Some marketers claim that we are all humans. And in all market types, humans work with each other. This is simply not true. First, eCommerce is growing faster than ever. In digital sales, there are no humans on the selling end. In such cases, humans often buy from brands. And second, arguing "we are all humans" is like using "we all breath air" as differentiation criteria. True. But not sufficient for successful marketing.
Strategies for B2B Marketing
Marketing depends on its audience. In essence, all marketing strategies can be used for B2B Marketing. The core aspect is to adapt the strategy to the B2B companies and business markets specifics (see the previous chapter).
Before we go into details, it is essential to understand two topics:
To create an effective strategy, you must understand your brand's positioning. This is crucial. This statement is an accurate description of how a customer perceives your brand. It includes the who, when, why, and how of your company's brand identity.
The buyer's journey is the process buyers undergo from awareness to purchase. Understanding the stages and your customers' preferences can help you streamline your marketing strategies.
In literature, you find four journey steps: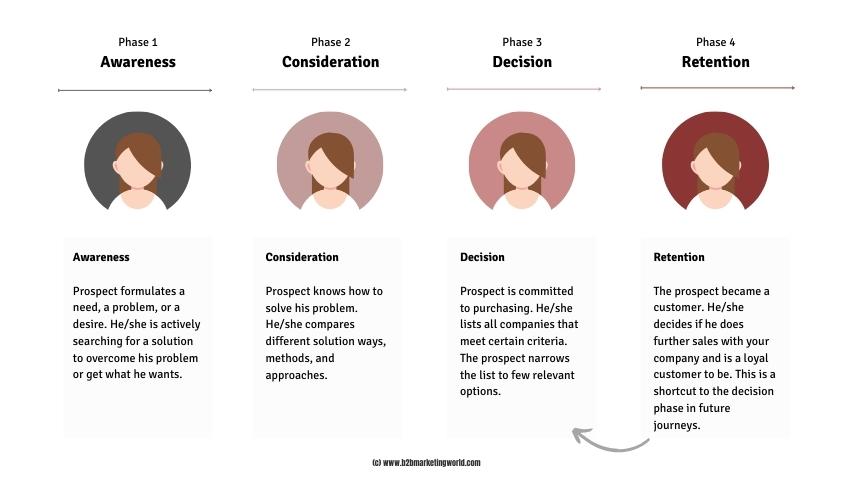 B2B Buyers Journey © B2B Marketing World
Your brand positioning and the buyer's journey build the foundation of your marketing strategy.
Marketing Strategy in a nutshell
As a business owner, CMO, or marketer, you know the value of creating, implementing, and following through on a B2B Marketing Strategy. Your B2B Marketing Strategy is the backbone of business growth.
The following is a high-level overview—of your B2B Marketing strategy in a nutshell.
1.) Definition of Aims
A clear definition of goals is the initial step to building a long-term strategy. The marketing objective is derived from the sales aims. It contributes to the company's success. The marketing aim also ensures a consistent brand positioning.
2.) Analysis
The analysis step is an internal and external analysis. It is done to understand the company's current state of marketing efforts. Market research helps to identify the motivation and needs of the target group. Further, have a look at what your competition does. And make sure your marketing strategy sets you apart from the competition's market position.
3.) Definition of Target Group and Buyer Personas
The target group definition derives from the aims and analysis. Your target will be as homogenous as possible and has distinct criteria separate from other target groups. The "Buyer Persona" concept helps to make the target group more vivid.
A Buyer Persona is an ideal customer, illustrated by an imagined person with defined behavior, needs, and attributes. In B2B, it is necessary to describe multiple Buying Personas for one product or service as the buying center needs to be targeted.
4.) Description of the Buyer's Journey
The buyer's journey or customer journey is the ideal route the potential customer takes from first contact until a purchase. It is described in phases and has multiple touchpoints. Each touchpoint marks an exchange of information between the company and the targeted customer. They are allowing conveying a message. Ultimately, the user journey is mapped to actions within a B2B Marketing plan.
5.) Creation of a B2B Marketing Plan
This plan outlines how to reach your target group. For at each stage of the customer journey. It incorporates content and channels and tactics on how to use them. The marketing plan describes each touchpoint in detail, links them together, and creates a timeline on when to execute these actions.
6.) Define KPIs
Each action needs to be measured and reported. There is data that helps optimize campaigns and increase efficiency. And there are output KPIs. This data is used to measure the success of a campaign. The interpretation of data serves as an input to analyze your aims. And to do further analysis. This last step makes your B2B Marketing strategy a closed process.
B2B Marketing Channels
A marketing channel is a medium you use to get in front of your target audience. There are offline, online, and hybrid marketing channels to choose from. The right channel depends on your target group and their customer journey.
As described above, the marketing plan combines assets and channels. During your analysis phase, you see which channel your competition uses and where to find your audience. Multiple channels are used in a cross-channel marketing approach.
Communication channel management analyzes, decides, manages, and evaluates marketing channels.
The following is a brief overview of different B2B Marketing channels:
99% of people check their e-mail every day, and newsletters are the most used content marketing type for 81% of B2B marketers.
These stats are an indication of how essential newsletters are. Email marketing is one of the most potent B2B marketing channels. It can provide a steady stream of traffic to your website. It is a cost-efficient channel and is easy to use. The most significant advantage of email marketing is that you have complete control over the channel. It is an owned media.
A company website is your central digital hub and leads all marketing activities. You interact with internal and external functions and processes through your website, from Branding to Lead Generation. From Career pages to Corporate Social Responsibility, your website is a vital part of your digital universe.
Over 80% of buyers visit a website before making a purchase. A modern prospect is well informed before the first personal contact with sales. Most people educate themselves online. Google processes over 100,000 searches per second.
Your company needs to take advantage of the digital world. B2B tends to have mediocre online marketing strategies. Search Engine Marketing is a vital traffic source. Answering questions online is a celebrated, modern sales strategy. Simple but effective.
Social Media Channels for B2B
LinkedIn has 840 million users and is expected to grow to over a billion users by 2025 (Statista 2022). The largest business network is the most critical example of leveraging your marketing with social platforms.
Facebook is still a proper channel for branding and human resources topics. YouTube is, without a doubt, the most significant player on the video market. Instagram can be used for brand-related, visual storytelling. And TikTok is the fastest growing social media platform worldwide.
In a nutshell, there is no way to avoid social media for B2B marketers. Use social selling opportunities and employee advocacy programs to strengthen your brand.
Establish your unique social voice. Be authentic, honest, and entertaining. At the same time, you are focusing on how to create value for both your company and your audience.
Industry Magazines, both print and digital
B2B customers are more interested in logic, expertise, and education than emotional appeal. You can meet these needs via industry magazines. These publications are heavy on facts and provide technical expertise.
Publishing with market-leading magazines positions you as a thought leader. Therefore, offline and online publishing is relevant to your marketing mix.
To address the ongoing discussion if print is dead: no! Print is not over and most likely never will. It is not a discussion of print vs. digital, offline vs. online. The task for a professional B2B marketer is to combine the advantages of both media types. And overcome shortcomings.
A significant advantage of leading industry magazines is that they own a defined target group. Media kits provide a detailed overview of the audience. Cost-per-mile (how much you need to pay to get in front of a thousand readers) is typically high. But you have direct access to your target group. This makes it easy to get in front of many people without the necessity to build your audience on your own. However, remain independent of magazines as you only have access to your audience if you pay for it (= paid media).
B2B Marketing Assets and Formats
A marketing asset is the carrier of your message. The primary asset types are text, image, video, and voice. Although these basic assets can be used stand-alone, you will use combinations in many cases. The combination of assets defines a B2B Marketing format. For example, a video with subtitles or an image and text slogan advertisement.
Which asset to use depends on these two aspects:
Some assets and formats work better than others in different channels. For example, you wouldn't use an image slideshow on YouTube. Or publish a long text on a print ad. This might be an obvious thing to say. But the wrong asset choice is a common pitfall in modern business marketing.
B2B marketers try to copy what works in consumer marketing. While this approach may work in some cases, you always need to adapt to the purpose of your marketing. In B2B markets, this purpose is mainly around educating your audience and creating trust.
Common B2B Marketing formats are:
Whitepapers and eBooks
Case Studies
Webinars
Templates, Checklists, and How-to-Guides
Tools and Calculators
Learning Courses
B2B Podcast
The management of assets, formats, and channels are B2B Content Marketing. This overview provides more detailed insight into proven content forms in B2B markets.
Examples of B2B Marketing
The examples in this section are just a few of many outstanding B2B marketing initiatives. While you may operate in a very complex industry, there is much that others are doing that we could learn from. You do not have to reinvent the wheel. Learn from others and see some best practice examples.
Company: JIRA
Marketing channel: Website
Jira is a software product from the Sydney-based global acting company Atlassian. Landing on the JIRA website provides a first glance of their proposition: the #1 software tool for teams. A clear Call-to-action (CTA) aims to convert a visitor to a free trial customer. The four core features are shown with screenshots from the software, providing a first glance at usability. A sub-navigation UI guides the user to the most important categories; features, product guide, the enterprise version of the tool, and their pricing model. Interestingly, the top navigation on all pages reveals that JIRA is part of Atlassian and allows users to navigate to other products from the company. This approach aims to cross-sell and create an Atlassian software stack.
Company: Maersk
Marketing channel: LinkedIn
Maersk is a Danish container logistic company with 88,000 employees. Their LinkedIn company page has 730,000+ followers (2020) with extremely high engagement rates. Maersk regularly uses storytelling and strong visual content for marketing its solutions. They also use paid advertisements on LinkedIn to increase their content's reach further.
Company: Animagraffs
Content type: Educational, descriptive content
Animagraffs is a one-person show. Jacob O'Neal showcases how complex topics can be explained visually. The animated content aims to educate the target audience and support fact-based content. This type of content describes the working principle behind a product. Especially during searching for solutions, customers search for "how-to" or "what is" information. Questions like "how speakers make sound" can be used by a company that produces a unique part of a loudspeaker to market their solution to a brand like Bose or Sony.
Further Reading and References
Business-to-Business Marketing is a broad and complex topic. We pulled together further references, definitions, and some hand-picked links to continue reading.
Analyzation of 25 Marketing Definitions
There are hundreds, if not thousands, of definitions of this marketing category. While historically, the phrase "industrial marketing" was popular among those working in the field. We now rely almost exclusively on "business-to-business marketing" when referring to the activities between corporate entities.
A comprehensive definition will explain the recipients of B2B marketing strategies and further detail its processes in purchasing decisions.
The 25 analyzed definitions have these aspects in common:
Used terms are industrial marketing, business-to-business marketing, and B2B marketing
There is a focus on transactions between two businesses instead of business and consumer
All covering the 4Ps of marketing or parts of it: promotion/advertisement, product, price, and place/distribution
The definitions apply to products and services alike
The most comprehensive list of B2B Marketing Definitions
Owing to the sheer diversity of definitions currently available both on the internet and within the academic literature, we have compiled a list of examples we feel are worth sharing.
Online Sources
#1 Wikipedia
"Industrial marketing (or business-to-business marketing) is the marketing of goods and services by one business to another. Industrial goods are those an industry of uses to produce an end product from one or more raw materials. The term, industrial marketing has largely been replaced by the term B2B marketing"
#2 LinkedIn
" […] business-to-business marketing refers to the marketing of products or services to other businesses and organizations."
#3 G2 Learn Hub – The Technical Definition
"B2B marketing is promoting products and services to other businesses, typically: (1) at large volumes, (2) with lengthy sales cycles, (3) to multiple decision-makers, and (4) with more complexity than consumer products."
#4 G2 Learn Hub – The Business Definition
"B2B marketing can also be defined as the marketing of products or services to other businesses for use in production, general business operations, or resale to other consumers."
#5 G2 Learn Hub – What it Really Means
"In simple terms, B2B marketing is a business promoting its products or services to another business"
#6 Sendepulse
"Business-to-business (B2B) marketing is a process that involves selling a certain product manufactured by one company to another. Also, it's necessary for any company that wants to offer its services to other organizations."
#7 Hubspot
"B2B (business-to-business) marketing refers to any marketing strategy or content that is geared towards a business or organization. Any company that sells products or services to other businesses or organizations (vs. consumers) typically uses B2B marketing strategies."
#8 Comboapp
"B2B marketing (business to business marketing) is the business process of creating relationships with other companies in order to sell them products or services."
"In Business to Business marketing (also known as B2B or industrial marketing), products and services are sold to other businesses rather than to the general public."
#10 Marion
"B2B marketing is the process of one business marketing its products/services to another business. Business to business marketing is needed when one company's output is required for another company to maintain or improve its operations."
"Business-to-business marketing (or B2B marketing, as it is commonly known) involves the sale of one company's product or service to another company."
"Industrial marketing, also known as business-to-business (B2B) marketing, is a branch of communications and sales that specializes in providing goods and services to other businesses, rather than to individual customers"
#13 Study
"B2B (business-to-business) marketing is marketing of products to businesses or other organizations for use in production of goods, for use in general business operations (such as office supplies), or for resale to other consumers, such as a wholesaler selling to a retailer."
#14 Copypress
"B2B marketing stands for business-to-business marketing. Businesses will create marketing material for other businesses, as opposed to marketing material directly to consumers."
"B2B marketing is therefore about meeting the needs of other businesses, though ultimately the demand for the products made by these businesses is likely to be driven by consumers in their homes."
#16 Gartner
"B2B marketing is a collection of techniques for marketing to business buyers. Its goal is to improve lead quality, sales acceptance of leads and conversion rates."
#17 Oracle
"[…] the marketing of products and services directly from one business to another, rather than trying to reach the broader consumer market."
#18 Seobility
"The term B2B (Business-to-Business) marketing describes the marketing of products and services to organizational customers. The term industrial marketing is often used synonymously."
"Quite simply, B2B marketing happens when one business markets a product or service to another."
Books
#20 Innovative B2B Marketing; Simon Hall; 2017
"B2B Marketing, sometimes referred to as "business marketing" or "industrial marketing", is the practice of individuals or organizations marketing products or services to other companies or organizations."
#21 The Complete Guide to B2B Marketing; Kim Ann King; 2015
"B2B Marketing, also known as business-to-business marketing, is simply business selling at scale to buyers in other companies."
#22 B2B Marketing; Uwe Seebacher; 2021
"[…] as the marketing that takes place between market participants who, due to their original business function in a defined market, are suppliers or subcontractors and buyers of raw materials and semi-finished products and are therefore not end customers or end consumers."
#23 Business-to-Business Marketing; Mark Eardley; 2016
"Business-to-Business or B2B Marketing is sometimes referred to as industrial or trade marketing, and it deals with products and services that are bought by enterprises rather than individual consumers."
#24 Business to Business Marketing; Nick Ellis; 2010
"The term "business-to-business marketing" is used to describe the marketing activities of any kind of organizations which has exchange relationships with other organizations or businesses"
#25 Business-to-Business Marketing; Ross Brennan, Louise Canning, Raymond McDowell; 2010
"Business marketing is concerned with the marketing of goods and services to organizations. They key distinguishing feature of business marketing is the nature of the customer, rather than the nature of the product."
Hand-picked resources for further reading
The ultimate guide to B2B Marketing by Allie Decker on the Hubspot Marketing Blog
What is B2B Marketing by Steve Kearns on the LinkedIn Marketing Blog
B2B Marketing: A Guidebook from the Classroom to the Boardroom by Uwe Seebacher
Top 5 B2B Marketing Blogs. A collection by B2B Marketing World
"B2B Marketing is the strategies and processes involved in marketing and distributing a product or service to another company or organization."
This definition incorporates the essence of this marketing discipline. The differentiating factor is the customer: B2B marketing aims at another business, while B2C marketing aims at consumers.
This is not a new concept. Business-to-Business Marketing has been around for some time already. It used to be Industrial Marketing. During the development from the industrial revolution to industry 4.0, the marketing discipline developed too.
However, B2B transactions still occur along the supply chain, in which one business buys raw materials from another company to be used in manufacturing a product. B2B products and services are traded on a B2B market.
The nature of these goods differs from consumer products. There are some distinct differences between B2B and B2C marketing. For example, B2B marketing targets a group of people (buying center), the products and services are by trend more complex to explain and have a higher ticket price.
While it is essential to incorporate these differences in your marketing strategy, the creation of a strategy for B2B markets is described in 6 steps:
Definition of Aims
Analysis
Definition of Target Group and Buyer Personas
Description of the Buyer's Journey
Creation of a B2B Marketing Plan
Define KPIs
Marketing Channels, assets, and formats are used to realize your strategy. Examples for channels are your website, social media, newsletter, or industry magazines. Standard business formats are Whitepapers, Case Studies, Webinars, Tools, and Podcasts. The management of assets, formats, and channels are B2B Content Marketing.
Do you wonder how to make use of all of this? You do not have to reinvent the wheel. There are some great examples available, like the website of JIRA or the LinkedIn channel of Maersk. For further reading, we encourage you to look at these 5 B2B Marketing examples.
You may also like the following articles
Industrial Marketing

Industrial marketing is to market a good or service to another company within an industrial market. Defining marketing by the type of market was established decades ago and is still a valid and important concept. Modern industrial marketing is called business-to-business or B2B marketing. This article outlines why industrial marketing is the prequel of this concept.

B2B Marketing in a Nutshell

Marketing is essential. But it's hard to create a marketing plan from scratch. This article outlines the very basics to clearly lay out working principles. All marketing efforts can be categorized into three phases. You will read about prospects, leads, and customers and the ingredients of a blueprint B2B Marketing plan.