B2B Website Development Cost in 2023
How much does it cost to (re-) launch your website?
One of the most dreaded topics for B2B Marketing Leaders is a corporate website's relaunch. This kind of mega-project is due about every 4 to 5 years. The biggest challenge lies in planning and applying for a realistic budget sufficient for all B2B website development costs. To make this job a success, we have compiled the biggest cost drivers and most important numbers for the launch of a B2B website.
3 Highlights of this Article:
B2B Website Development Cost Benchmark

Most Important Contributors to Costs

Biggest Potential to Save Money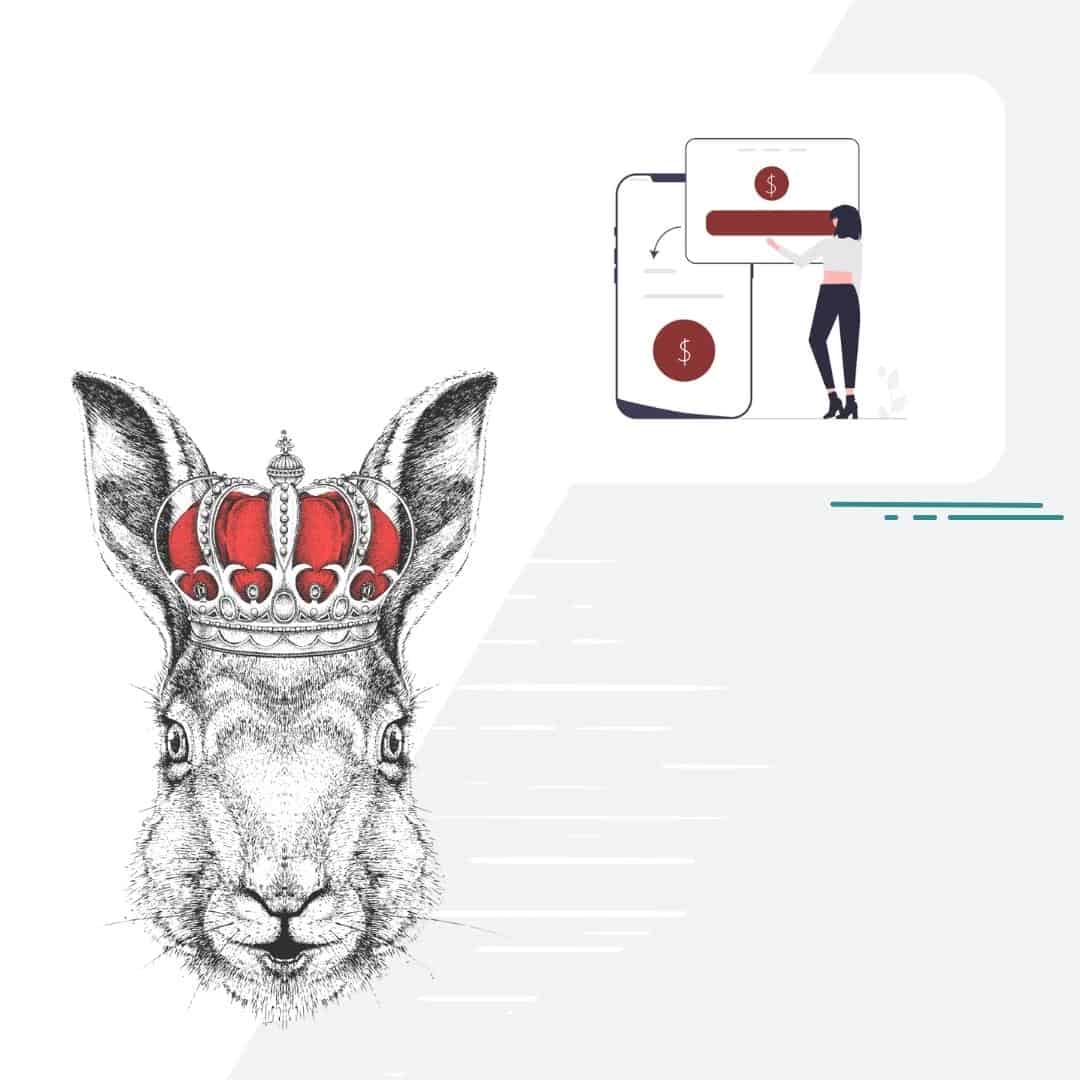 Want to learn B2B Marketing?
B2B Website Development Cost Range
The B2B website development cost lie between 10,000€ and 300,000€, depending on the number of pages and languages. Here are some more specific price ranges.
| Cost | Company Size | Pages | Languages |
| --- | --- | --- | --- |
| 10,000€ | Small | 10 | 2 |
| 100,000€ | Mid-Sized | 50 | 4 |
| 300,000€ | International | 120 | 10 |
Starting Point: Webdesign Agency + Reliable CMS
These are the framework conditions we used to determine the benchmarks in this article:
The website is implemented by an external agency and not by in-house employees. Most companies with fewer than 10,000 employees do not employ their own web developers. (We will be talking about the transfer of individual tasks from content creation to the in-house team later).
The website's content management system does not use a modular system such as Wix, Jimdo, or Squarespace. While these are cost-efficient, as they offer a ready-made website layout, they lack flexibility – individual designs, page layouts, the use of multiple languages, and special functions with external plugins are highly limited. These website template services are not recommended for B2B websites with an individual corporate design, more than 50 pages, and 3 languages.
B2B Website Development Cost Drivers
Here is an overview of the external costs for a website project. The most important factors here are the website's size (number of pages + translations) and technical implementation through the agency – especially non-standard services not usually carried out by the CMS.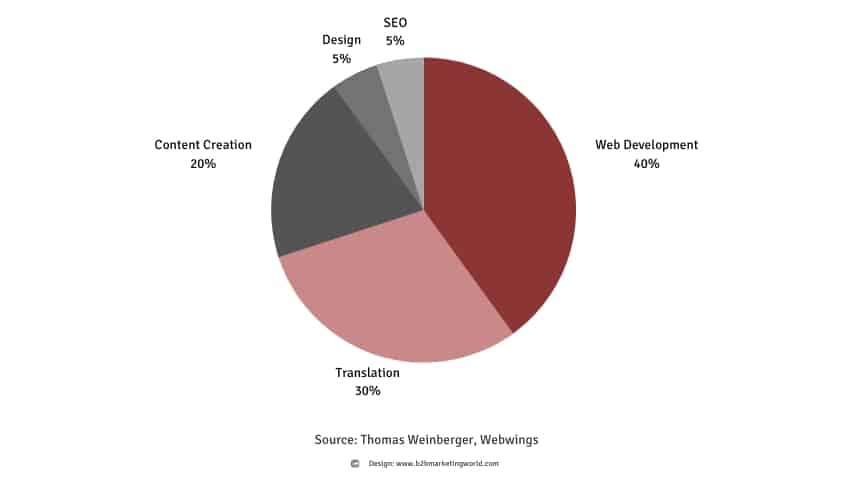 Important notice: the costs for content creation in this graphic are calculated with all texts being written in-house. They only cover image and video production. If the texts were to be written externally, their costs would be 3x as high.
In the following, we will look at each cost in detail.
Costs of Content Creation
Text
Due to their high costs, texts are often created in-house for most websites. One text is equal to about 16 hours of work. This consists of research, writing and internal clearance. The external hourly rate for content marketing is roughly 120€. That puts the costs of an externally created text for a page at 1,920€. For 100 pages, that would be a total of 192,000€ for text creation.
Images
You should budget between 4,000 and 8,000€ for the creation of new photos. One day of shooting, including post-processing costs around 2,000€. 2 to 4 days of shooting in your company and with clients should give you enough photo material to work with.
Nowadays, stock photos are hardly a good alternative. They are very affordable, but make the company appear inauthentic, and instead you will pay with the trust of your website's visitors. You can use them sparingly (about 5%) for news articles. On the important pages for products and applications, however, you should only use real pictures.
Videos
Videos enhance the perceived quality of a website enormously. We recommend at least 1 corporate image video, 1 product video and 2 case studies. Each video will set you back about 2,500€. The wider your product range is, the more videos you should include.
Costs of Translation
Translations are one of the largest drivers of cost for a new website. Each page and language will generate costs of about 250€.
How are these translation costs calculated?
Let's take 1,200 words as an average text per page.
1,200 words per page are 8,700 characters.
Translation agencies charge per standard line (=55 characters)
8,700 characters divided by 55 = 158 standard lines
One standard line costs about 1.60€ to translate
158 x 1.60€ = 253€ to translate one page into another language
The cost of translating 100 pages into three languages are around 75,900€.
Costs of SEO
Professional SEO consultation helps you find out what sort of content your project team should focus to achieve good rankings on Google. Depending on your website's size, SEO support can cost between 4,000€ and 15,000€.
What does that include:
Research the most important keywords
Research of competitors per keyword: the extent and quality of competitor's content dictate how much you need to invest in your own content creation
Determining the website's structure: number and hierarchy of pages, internal linking between pages
Suggestions of contents per page: headlines and key words per paragraph, links to other pages
Suggestions for implementing structured data: highlighting specific things for search engines such as company addresses, logos, FAQs
Fixing guidelines for technical SEO for external web developers: determining SEO panels, metadata, loading time
Technical Implementation
The web design's technical implementation is the largest cost factor, at around 40% of the total cost of any website project. So, with a total project sum of 200,000€, that would put the costs of implementation at 80,000€.
Here are the steps of web development:
Implementation of the content management system
Creation and connection of all databases (images, translations, product information)
Installation of user administration
Configuration of page layouts based on the new design
Installation of all interfaces (forms, shops, e-mail services, etc.)
Bug fixing
Coordination workshops, if not budgeted separately
Costs of a Shop Function
For a legitimate B2B shop with up to 100 products you should budget between 30,000€ and 60,000€. The large price range is due to the necessary functions. There is a huge difference in expense if you need things such as ERP implementation, product comparison, product configuration systems and e-mail marketing connectivity tools.
For shops that offer a wide range of products (1,000€+), the costs are quite a bit higher. In this case, you will need to pre-emptively assess the costs and compare different service providers.
Costs for Meetings and Workshops
Project meetings, authorisation cycles with management and agency workshops are time-intense but necessary. Many of these are shown as internal efforts within the project team. External agencies either list these time investments as separate costs or include them in Technical Implementation / Web Development.
For a medium-sized website with costs of around 200,000€, the internal time needed for meetings will be around 60 hours per employee in the core team.
The time needed for workshops, calls and e-mails, including all preparations and rectifications for a website of this size will be around 150 hours for the external agency. With an hourly rate of 120€ that would equate to 18,000€ of external costs.
Potential Savings of B2B Website Development Cost
Apart from project management and coordination of external agencies, text creation offers the highest potential to save B2B website development costs. Legitimate content marketing agencies take about 1,900€ per content page. For 60 pages, that would generate costs of 108,000€. Internal content creation will therefore save you a lot of money. Additionally, the in-house team has more knowledge of your products than an external agency.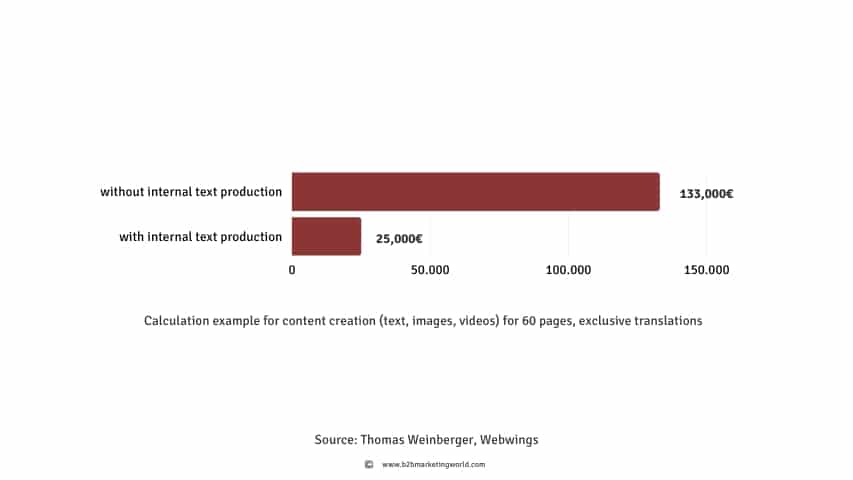 In text creation, a combination of in-house writers and either internal or external SEO advisors has been proven to be effective. The SEO expert will contribute key words and headlines for every page. This will give the copywriters a good structure to arrange the contents and also ensures high-quality search engine optimisation.
You should under no circumstances use cheap copywriters or text brokers for content creation. They will only charge between 300 and 600€ per page, but the texts' quality is insufficient. The difference in costs to external agencies comes from the comprehensive research (analysis of competitors + SEO) which content agencies carry out. Without these efforts, your pages would not generate good Google rankings.
Tip when uploading the text
Instead of entering foreign-language texts manually, many translation agencies offer an automatic text import service. This is something you need to check with your web developers first. For CMS such as Typo3 or Wordpress, the agency can develop interfaces for importing texts.
The creation of images and videos can also be assigned to in-house teams. Through a content producer, you can convert 80% of external costs into hourly rates. 20% of costs will still go towards things such as travel expenses when shooting case studies with clients.
Example of a B2B Website Development
Here is a sample calculation of B2B website development cost with 100 individual pages in 4 languages (DE, EN, FR, ES). Internal expenses for meetings and text creation are not included.
Design: 10,000€
Content creation for images, videos: 25,000€
Translation costs: 80,000€
SEO: 10,000€
Web development, excl. shop: 100,000€
TOTAL: 225,000€
Hosting costs are negligible
Website hosting consists of the website's provision on an external server, as well as the delivery in a content delivery network (=worldwide servers). The costs for this are between 100 and 400€ per month.
Compared to the other costs, hosting costs are less relevant. However, hosting should nevertheless be given special attention, as availability and loading times of your website are important factors in ranking.
With the help of the benchmarks in this article, you can plan a realistic budget for your next website project. One critical factor is always the availability of your in-house team. In-house text creation is the crucial point of every relaunch. So, in addition to the budget for external agencies, make sure you have enough internal work hours available.
| Cost | Company Size | Pages | Languages |
| --- | --- | --- | --- |
| 10,000€ | Small | 10 | 2 |
| 100,000€ | Mid-Sized | 50 | 4 |
| 300,000€ | International | 120 | 10 |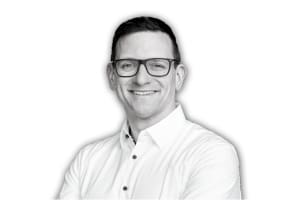 THOMAS WEINBERGER
Founder and CEO
Thomas' agency Webwings supports mid-size B2B companies with lead generation services. They specialize in interconnected paid ads campaigns on Google Ads and LinkedIn Ads while tracking interactions from the first click to the signed sales contract. The one question they focus on is, "how can we improve the ads campaigns' ROI?"
You may also like the following articles
How to use Google Search Queries in your Digital B2B Marketing

Google's Search Intent is an essential marketing strategy: Answering customers' questions and helping to get what they need. Informational, Transactional, Commercial, and Navigational. These different intents of a search can be aligned with the User Journey. The result is a game plan for your Digital B2B Marketing strategy.

Digital B2B Marketing

Digital B2B Marketing refers to all marketing efforts that use digital technology. Businesses use digital channels such as search engines, social media, email, and websites to engage with current and prospective customers. This article covers everything about the subject, from a proper definition to differences and similarities of traditional marketing to 5 reasons digital marketing benefits your business.

How UTM Links help track your marketing [with GA4 update]

Which marketing channel performs the best? This article shows how to answer this problem with the help of UTM links. There are a ton of channels in B2B marketing. It's natural for a marketer to want to try every new channel or shiny object that comes around.