6 Great B2B Marketing Examples
What to learn from these real-life B2B marketing use cases
You do not have to reinvent the wheel. There are plenty of great B2B Marketing examples out there. This post pulls together 6 outstanding examples across different marketing disciplines and channels. Learn how a big container logistic company entertains over 870,000 followers on LinkedIn and understand how to use animated graphics as part of your content marketing mix. Don't miss out on example number 6 and see how Cisco System uses YouTube. These examples are handpicked and outline how you can use them as a B2B Marketeer.
3 Highlights of this Article:
Real-life B2B Marketing Examples

Companies: Lincoln Electrics, Maersk, JIRA, Animagraffs, Asana, Cisco

What they do and what to learn from it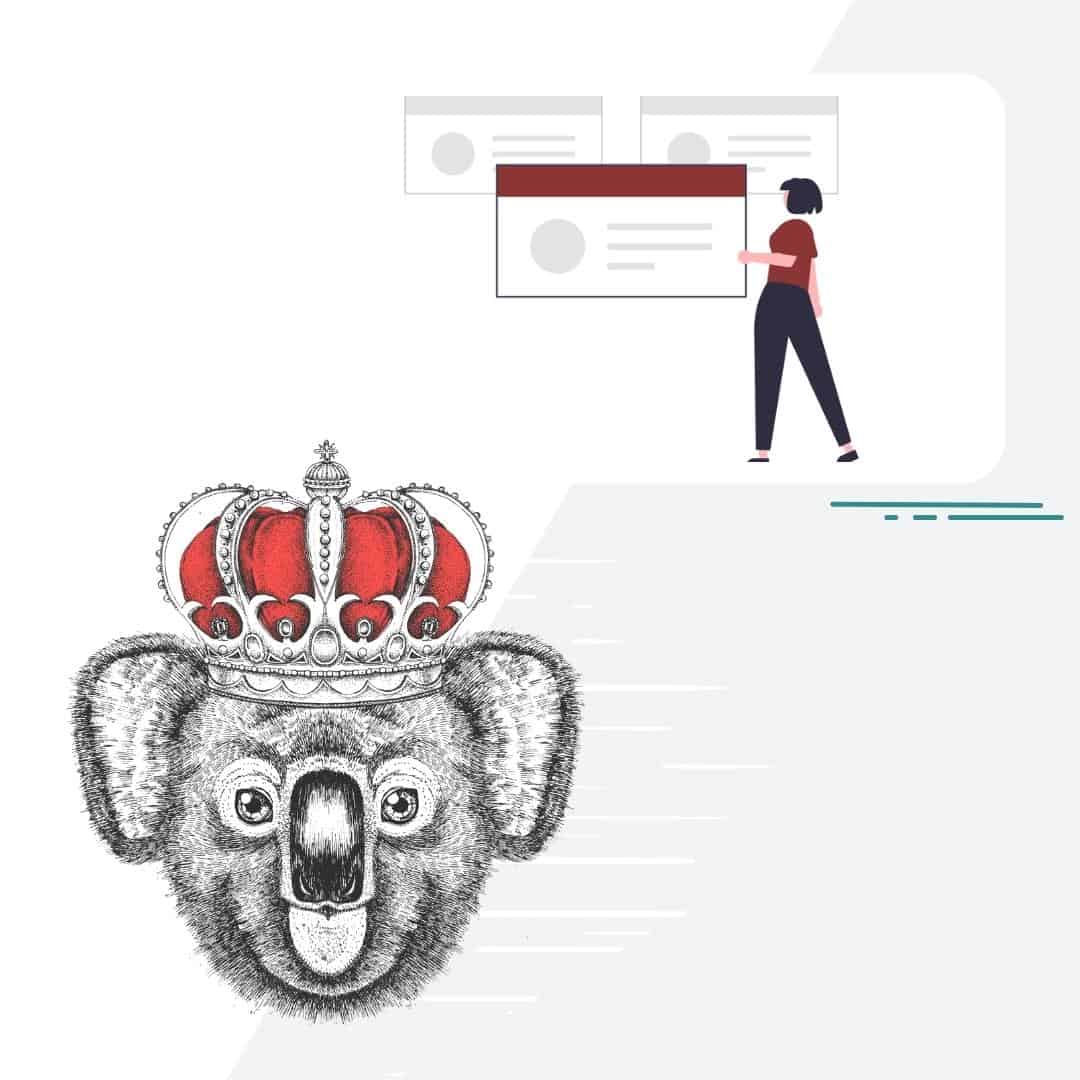 Want to learn B2B Marketing?
Are you looking for inspiration on the latest and greatest B2B marketing strategies? Look no further! This article features various examples from top companies in various industries. Whether you're in the tech industry or the manufacturing industry, you'll find a ton of ideas that you can use to make your business stand out. So why wait? Dive in and explore our collection of B2B marketing examples now.
B2B Marketing Example #1
Lincoln Electric
Lincoln Electric is a leading manufacturer of a wide range of welding products and equipment. They produce everything from arc welding equipment and welding consumables to plasma and oxy-fuel cutting equipment and robotic welding systems. As a global company, they are dedicated to providing the highest quality products to customers worldwide.
What they do exceptionally good
Lincoln Electric has been utilizing different B2B marketing techniques to effectively showcase its capabilities to specific industries and applications.
One of the most successful methods is case studies and technical whitepapers. These resources provide in-depth examples of how their products have been used to solve real-world challenges.
In addition to these resources, they have a wide range of guidelines and case studies on how to e.g., weld.
These content pieces do not focus on their products but provide an in-depth explanation of techniques.
By leveraging these marketing strategies, Lincoln Electric has been able to establish themselves as a trusted and reliable provider of welding equipment and supplies in the market.
What to learn from this B2B Marketing Example
B2B Marketing is about creating trust. The best way to build trust is to showcase your know-how independently of your products.
Be to "go-to" source for all questions your customer may have. You create momentum beyond your competition by being the industry thought leader.
Content types like:
Whitepaper
Guidelines
Solution Descriptions
are a very effective way of achieving thought leadership.
Have a look at the Resource Center and Education Hub of Lincoln Electric.
B2B Marketing Example #2
Maersk
Maersk is a global operating container logistics company with over 80,000 employees in over 130 countries. Their portfolio consists of transportation services, supply chain and logistics, financial services, and digital solutions.
Great example for: LinkedIn, Social Media
What they do exceptionally good
Maersk has a strong online appearance, but its LinkedIn profile sticks out. Social media and active community management seem to play an essential role at Maersk. Their main LinkedIn page counts over 870,000 followers. Maersk has a very high post frequency with often multiple posts per day. Pictures, slideshows, and videos are used to create an emotional experience.
People and employees give the company a face, and the social media team features employees to give insights into their daily job. This approach triggers engagement and increases the post reach. The content strategy is not only to showcase products and solutions but also to enhance the brand experience. Classic storytelling elements, like this company history post, focus on brand values and long-standing experience.
What to learn from this B2B Marketing Example
B2B Marketing on social media is not only about showcasing products. The "social" in social media is there for a reason. People want to engage with other real people. Give your brand a face and make your follower a part of your story. Share insights with them.
Bring employees on the LinkedIn stage and showcase how they contribute to the company's success. Actively manage your community and reply to comments immediately; an answer two days after the post is in vain. People will have moved on. The bottom line is to act like a real human. Maersk plays this game very well.
B2B Marketing Example #3
Jira by Atlassian
Jira is issue tracking software to plan, track, release, and report tasks. Atlassian claims that Jira is the #1 software tool used by agile teams. Atlassian, the company behind Jira, also provides well-known planning and collaboration tools like Confluence and Trello. The company has 5,000 employees, over 180,000 customers, and 7 offices globally.
What they do exceptionally good
Jira is a licensed software provided via cloud service. The tool comes with many features. The price is influenced by the number of users and the feature package you choose, and the billing cycle, monthly or annual. Sounds complicated? It is. Still, the Jira website provides pricing in a very neat and structured way.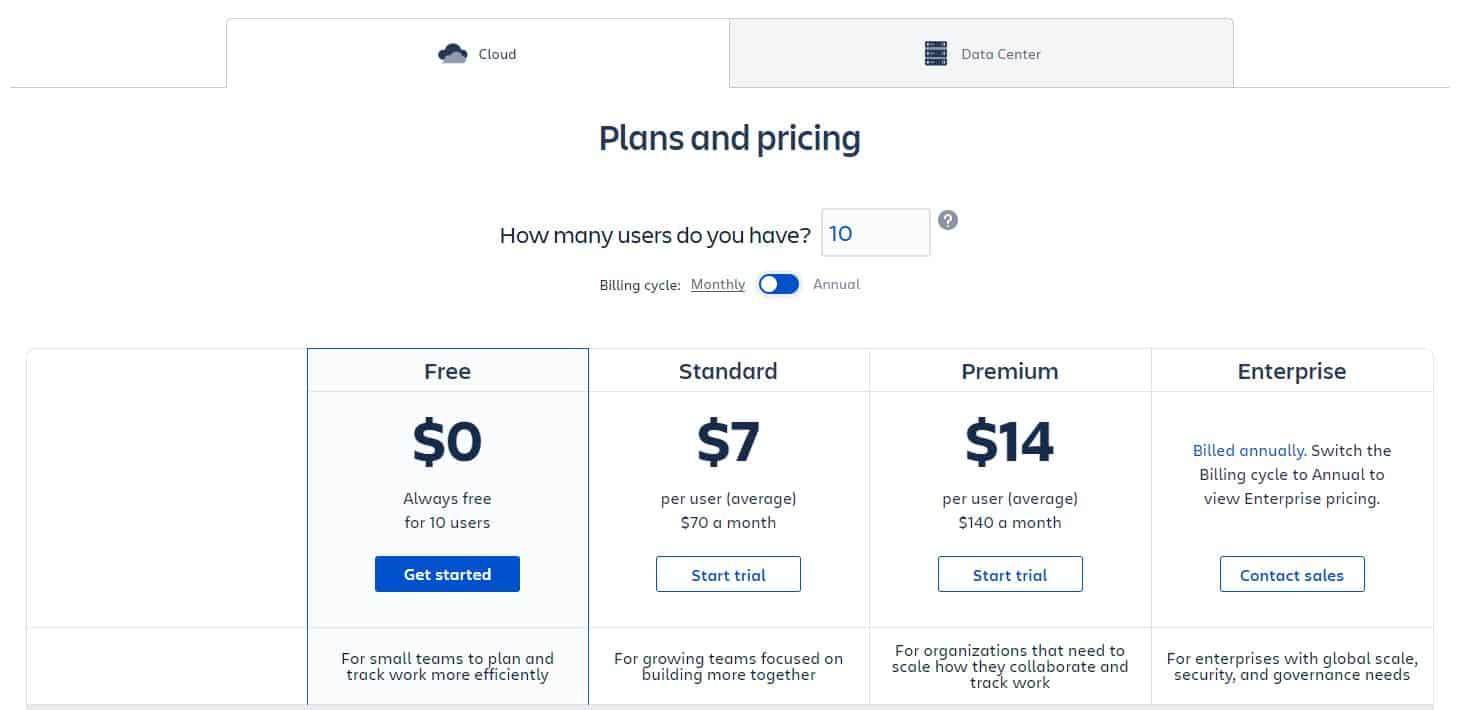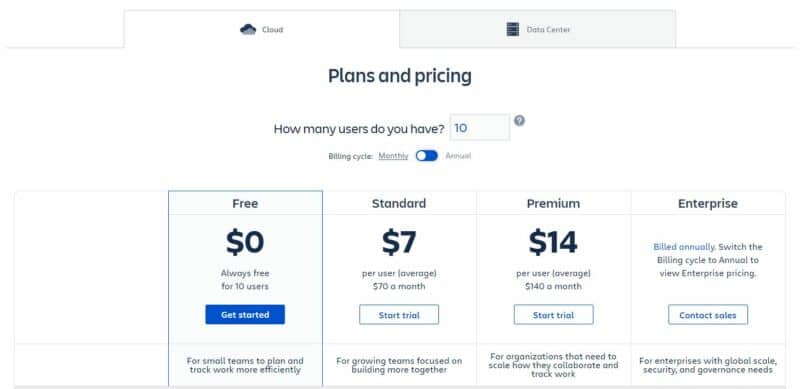 Plans and Pricing for Jira on Atlassian Website (c) Atlassian
First, you can choose between Cloud service or Data Center pricing (discontinuing 2024). Second, the price adapts based on the number of users you need. An easy monthly vs. annual billing cycle shows the impact on pricing. The biggest challenge with software is to show the features per package. Jira shows a long list of features but describes each feature on click.
This approach makes it easy to pick the right package. The usability and clear price policy is a benchmark example of how to display B2B pricing.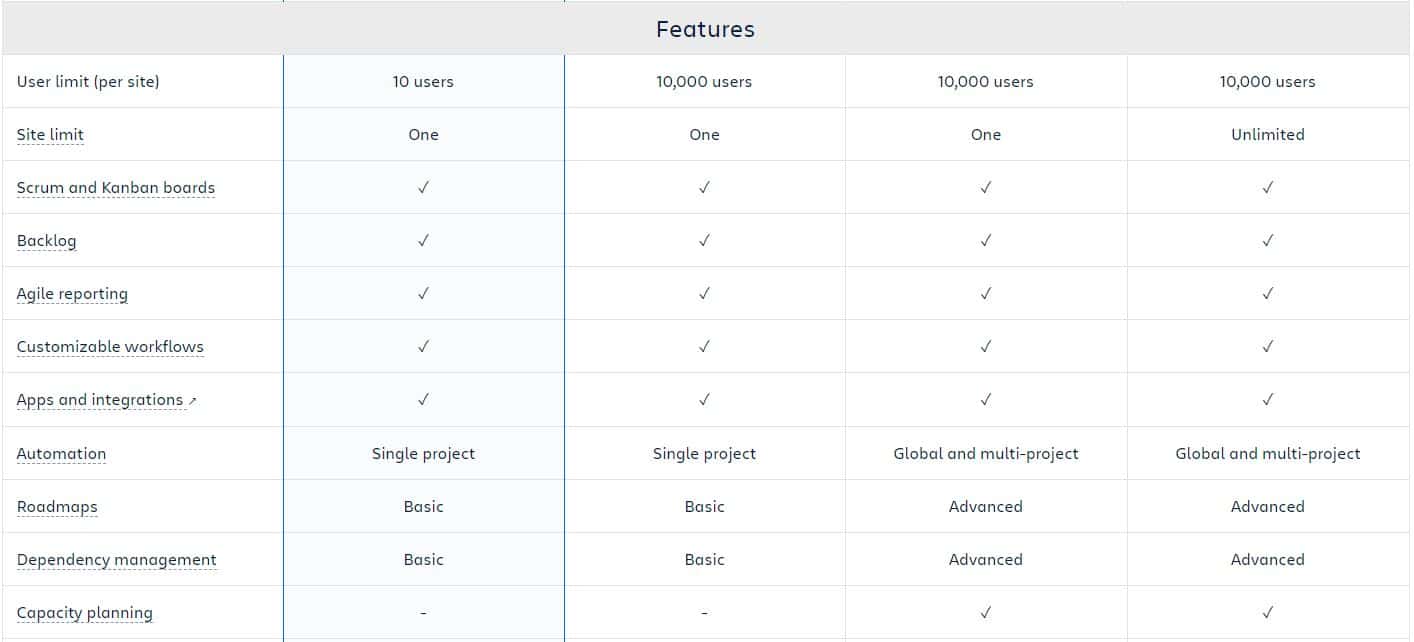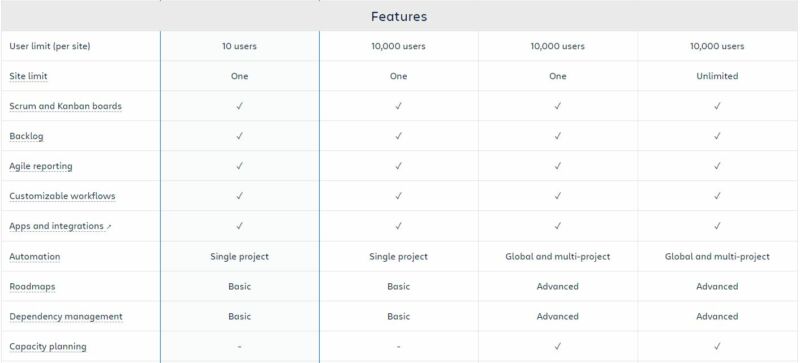 Plans and Pricing for Jira on Atlassian Website (c) Atlassian
What to learn as B2B Marketer
Have a clear price strategy and don't hide prices. It is not user-friendly to only provide the option to request a quote. Purchasing departments typically have a clear budget scope. Give them a boost in making the first decision by showcasing your price model. This will get your product or service into the second round.
It is OK to display a lot of your functions. However, ensure the user understands them right away. Also, explain the benefit of each function and make this information as easily accessible as possible.
B2B Marketing Example #4
Animagraffs
What they do exceptionally good
The high-end visualization combined with clear explanations makes complicated information easy to digest. The user can look up a detail, e.g., a car engine, or learn the complete working principle. Animagraff uses the right level of detail without overwhelming the audience. This content is called "educational content" and is used to educate your audience to create thought leadership.
What to learn from this B2B Marketing Example
Educational content is a terrific way to build a long-lasting thought leadership position. B2B relationships are often based on trust between the two companies. The nature of the business and high investments result in long lead and sales cycles. By proving such a degree of detail, including your know-how, your customers will recognize you as a trustworthy source of knowledge.
Used as a brand positioning concept, you gain an advantage over competitors that is hard to catch up with. Used for product explanation, education content proves what you promise. This is an argument far stronger than a simple ad claim.
B2B Marketing Example #5
Asana
Asana is software to organize tasks and collaborate. This software is highly competitive, and people test multiple solutions before they stick with one of them. Asana offers a free test version. By doing so, the company can communicate with users directly, as e-mail registration is required. Asana takes this opportunity and provides outstanding newsletters.
Great example for: Newsletter / After-purchase-phase
What they do exceptionally good
The hardest thing with new software is to decide on the right one. The first few clicks decided whether you like the software or not. If usability is bad or you don't know where to start, you may never return. Asana overcomes this initial barrier by sending a welcome newsletter, including three simple steps to use the tool:
create a task
update a due date
complete a task.
This user activation helps to keep Asana in the game. It is neither commercial nor advertisement or spammy. It is a helpful newsletter with clear and activating Call-to-Actions.
Once you have started to use new software, it's vital to keep users busy. The more often the tool is used, the less likely it is for the user to change software. Asana tackles this aspect by sending a newsletter that triggers an emotional part of your daily job: what should you get done today. Again, this newsletter is generic, but it focuses on a pain we all know—keeping track of things. The clear CTA creates a new ticket, and the user is in the game.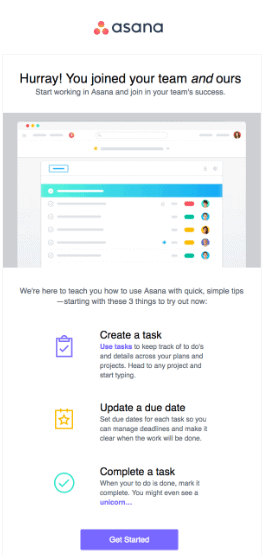 Asana Newsletter Activation (c) Asana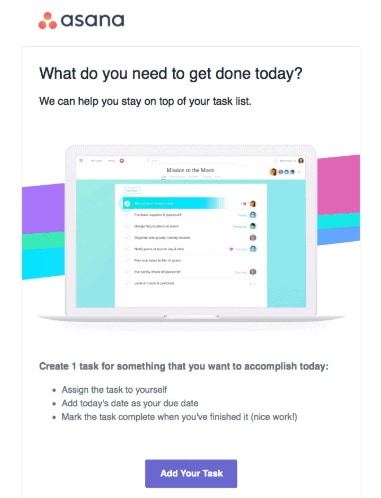 Asana Newsletter Activation (c) Asana
What to learn as B2B Marketer
Simple. Provide newsletters that are:
Helpful
Trigger emotions or help to solve a pain point
Have a clear Call-to-Action
Do not use newsletters to advertise. People are done with this content. Newsletters are a channel to distribute content. Not a channel to advertise free of charge.
B2B Marketing Example #5
Cisco
Cisco System is a true technology company heavyweight with a turnover close to 50 billion USD (2020) and over 75,000 employees. Established in 1984, Cisco offers software-defined networking, cloud, and security solutions for different company sizes. Their YouTube channel counts 288,000 subscribers.
Great example for: YouTube, Social Media
What they do exceptionally good
Cisco runs an outstanding YouTube channel, focusing on different target groups and offering videos for many portfolio offerings. Their channel is very well organized, showing different categories such as "About Cisco", "Small Business", "Networking" or "Data Center & Cloud". All videos are neatly organized in playlists to provide comprehensive knowledge for different target groups.
Each playlist has a description of what to expect and videos that provide added value for e.g. the small business owner interested in working with Cisco. These videos make this huge company accessible. The employees give Cisco a face to the customer and offer help and extensive know-how.
What to learn from this B2B Marketing Example
YouTube is a huge content platform that allows direct content distribution to your very own target group. Even more important, videos convey much more than facts. Employees are a brand's face to the customer. With a growing number of videos, it is important to have an organized YouTube channel, which is comparable to your website homepage. Visitors should understand right away what value your videos have.
Organize playlists from a customer perspective. Not from an internal view / organigram.
Summary
These 5 B2B Marketing examples showcase outstanding companies and their efforts to use the full range of marketing tactics.
The logistic company Maersk understands it very well to put the "social" in the center of their LinkedIn activities. A followership of over 870,000 receives multiple updates daily—from text to picture, from videos to slideshows.
How to communicate software pricing, including various options, is nicely done by Atlassian for their cloud software product JIRA. All influencing factors are shown at first glance.
Animagraffs is an exceptional example of how to use animations as educational content. "how does an engine works" provides animated yet insightful content. This content is helpful to explain a complex product and its working principles.
The newsletter must not be misused for advertising. Add value in a welcome message after a successful subscription. Asana does this in a very clever way.
Videos are a vital part of every marketing content mix. For huge B2B companies such as Cisco, YouTube is a suitable platform to communicate and educate your audience. A neatly organized channel makes it easy to find the right playlist for each target group.
You don't have to reinvent the wheel. Learn from established companies and incorporate their proven marketing tactics in your marketing plan.
You may also like the following articles
The 30+ Best B2B Marketing Podcasts

Are you looking for the best B2B marketing podcasts that inform and inspire you? We have you covered. This article lists 30+ podcasts for B2B marketing. To make your decision easy, we added details such as the number of episodes, length of episodes, and a short description.